Mutual Housing Association of Southwestern Connecticut (MHA) led the ambitious project to bring back the original beauty of the three-story Italianate structure. Constructed in 1854, Conger House is one of Washington Park's oldest and most stately homes. Unfortunately, in recent years, it had also become one of the most blighted. While many other houses in the Park experienced revitalizing transformations, the Conger House suffered a decade of neglect, vandalism and exposure to the elements.
When MHA acquired the property, they enlisted local Bridgeport business Brown Construction for the substantial task of restoring the building's façade and renovating the interior into eight spacious units of supportive service housing.
Throughout the house's rehabilitation, preserving the building's character was paramount, down to the details, which included restoring the interior oak stairwell and hand milling new porch posts to match the original historic style.
"It was the eyesore in the neighborhood," said lifelong Washington Park resident Anne Brignolo Hourclé. "Now it looks beautiful. It's a real star in Washington Park."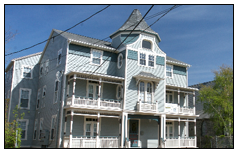 Today, Conger House once again proudly overlooks the park, noble in both purpose and presence. Its features reflect bygone times, and its function fulfills a current need for affordable housing. The project's success testifies to the power of collaboration. With MHA's experience in creating housing solutions, CommCap's expertise in community financing, Brown Construction's abilities in renovations, and Catholic Charities' dedication to human services, a historic house has been revived.
At Community Capital Fund, we know that effective and strategic collaborations are a key to neighborhood revitalization. Our financing, combined with the work of dedicated developers like MHA, can produce impressive results. "Trust in the relationship, that's magic," said Jenifer Svelnys, project manager, MHA. And with the right magic, anything is possible, even turning back time.
Frederick Brown, owner of local business Brown Construction, led the renovation task that took Conger House from its recent blight back to past and future beauty.