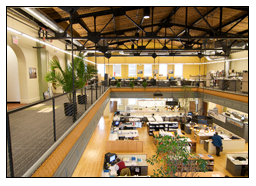 For Antinozzi Associates, Bridgeport was the perfect fit. For 50 years, the firm had been creating architectural excellence in the Greater Bridgeport area, but its offices had long been located in Stratford.
"We've always considered Bridgeport our true home," said President Paul Antinozzi. For three years, Antinozzi and his partners had been contemplating a move to the Park City, compelled by the city's size and history, and the allure of an architecturally rich office space in a turn-of-the-century building. The prospect was promising, but the deal was not sealed until the final incentive in the form of a $100,000 CommCap loan made with City of Bridgeport Community Development Block Grant funds.
In June 2007, after six months of renovations, the firm moved into its new location on Fairfield Avenue in downtown Bridgeport.
"My father designed Bridgeport's City Hall and train station," said Paul Antinozzi. "I can stand on the roof of this building and point out twenty buildings that this firm has designed. That means a lot to me."
Inside, the style of Antinozzi's new office is any architect's dream. Once a two-story ballroom known as Colonial Hall, the 11,500 square foot space provides an open atmosphere with ample historic grace including original chandeliers, a wrought-iron railing and gilded accents. "A compelling space for our collaborative process," says Paul, who notes the fitting combination of professional, emotional and conceptual ideas that the place evokes.
Officially the largest architectural firm in the largest city in Connecticut, Antinozzi Associates' identity is now firmly installed in the Park City. "We're known as a Bridgeport firm and we're proud of it," says Paul.
In addition to its professional services, the firm contributes to the bigger Bridgeport picture on many levels: by providing job opportunities, by enhancing the local economy with its employees that use community services, and by maintaining a commitment to public outreach. Antinozzi Associates runs the ACE mentoring program that offers professional architectural exposure to students from Bridgeport and Stratford.